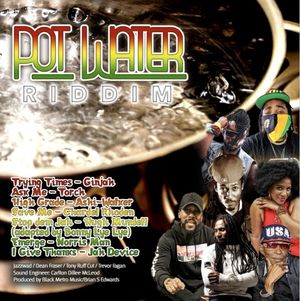 When you listen to the Pot Water Riddim for the first time you will wonder to yourself where have I heard this riddim track before? 
You will have to go way back into the reggae archives of Augutus Pablo and dig up the dub track named "Stop Them Jah" released in and around 1974 on the Pablo Label, or Jacob Millers "Who Say Jah No Dread" released same year or who can forget Hugh Mundell's "Stop Them jah" which was featured on his Black Man Foundation album. 

Black Metro Music in conjunction with Stingray Records (UK) have revamped the riddim and brought to you a number of vocalists to grace this classic riddim track. 
The first track I heard on this riddim was Norrisman's "Emerge" that was featured on his Album entitled "Emerge" released earlier in the year by Stingray Records. Months later in the midst of the global pandemic (Covid19) Ginjah's "Trying Times" started to circulate around radio houses and I could tell something was on the horizon. 

The Pot Water Riddim a 7 track riddim compilation album is here and kicks off with the aforementioned   "Trying Times" by Ginjah who takes on the current situation in the world today also chiming in on the Covid19 pandemic, perfect timing by Ginjah with a well delivered concious song 
Next up comes Torch on a stripped down mix of the riddim with a beautiful love song entitled "Ask me"and I gotta say Torch suprised me on this one. 

AshI - Walker an artist I just stumbled across virtue of this project comes in with a song for the herbalists. Ashi delivers arguably one of the best herb songs this year, track entitled "High Grade". 

The only female featured on the riddim is Chardel Rhoden who has been in and around the UK circuit for a while and it showed in her vocal delivery on "Save me". 

Bunny Lye Lye the veteran singer comes in with his rendition of Hugh Mundells "Stop Them Jah" and does a wonderful job, whoever decided to get Bunny to cover this song made the right choice. 
 I cant think of anyone who could have done a better job. 

Next up is Norrisman who does what Norrisman does, a  well delivered conscious love song is how I decribe it, and he has been doing this over the years. As I said earlier this track is also featured on his album of the same name released in Febuary 2020.

To round up the compilation in comes Nigeria's own Jah Device who has been making a name for himself after the release of his EP entitled "Ray Of Light" last year with his track "Give Thanks" where he shows adoration for the most high "Abba Nawa" (Our Father). 

Have to give huge bigs up to everyone involved in this project behind the scenes, the likes of Jazzwad, Dean Fraser, Tony Ruff Cutt, Trevor Fagan and Carlton "Dillie" Mcleod ,
Available on all digital plaforms from 11th Sept.2020
https://music.apple.com/us/album/pot-water-riddim/1528957505