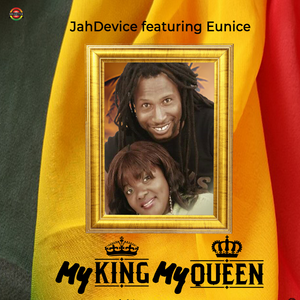 Dennis Brown's "Angel in Disquise" was released in 2020 courtesy of ShartyB Production, on hearing the track Jah Device was moved by it. 
Being a Dennis Brown fan and admirier of his legacy he felt he needed to write a follow up to this beautiful song. 
He wrote and recorded a demo track which was heard by ShartyB (Laughton Davidson) and he was more than impressed with Device's take on the riddim track and proceeded to Tuff Gong Studio in Jamaica to get it mixed and subsequenty mastered at Anchor Studios. 
"My King My Queen" features Eunice who is Jah Device's wife who has been instrumental to his sound as she does all the harmonies on his songs. Device says "As you know I'm a big promoter of the family as a unit of the kingdom, so my queen and I thought we should share the formula in a song"
Executive Producer: Laughton Davidson 
Recorded at: Jah Device Studios,Jos, Plateau State,Nigeria 
Mixed at Tuff Gong Jamaica 
Engineer:Mondaz 
Mastered: Anchor Studios Jamaica 
Label: ShartyB Records 
Produced by: Jah Device 
Published: ShartyB Production
The song was released on all digital platforms on 28th Dec.2020 .