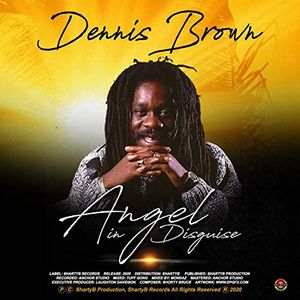 Dennis Brown is arguably the most imitated Jamaican vocalist, so revered are his vocal talents. artists like Luciano, Frankie Paul, Bushman, George Nooks, Natty King just to name a few have fallen from the Dennis Brown vocal tree. 
His smooth baritone has not only endeared him to a wide international audience but has attracted a fan base including the legendary Bob Marley who listed the Reggae balladeer as his favourite artiste. 
With over  80 albums to his name (excluding compilation albums) you would think that every Dennis Brown song is already out there for fans to love and enjoy. 
But 21 years after his passing a brand new Dennis Brown  single has been released courtesy of Laughton Davidson of Sharty B Productions out of Canada entitled "Angels in Disquise". 
Dennis laid the vocals down at Mixing Lab studios while the instrumentaion was recorded at Gussie Clarkes Anchor Studios, the Mixing was done at Tuff Gong Studios all in Jamaica.
Dennis delivers a beautiful vocal and I have to say I loved it from the first time I heard it, whether its due to  nostagic reasons or to the mere fact that its just a great song I'm not sure. 
I can only suggest that you take a listen for yourselves and draw your own conclusions, released August 28th  2020 and available on all digital platforms